Jamie's treatments focus on giving your body the space and support it needs to function well and heal itself. He uses gentle, hands-on techniques designed to ease pain, reduce swelling, improve joint mobility and release muscle tension.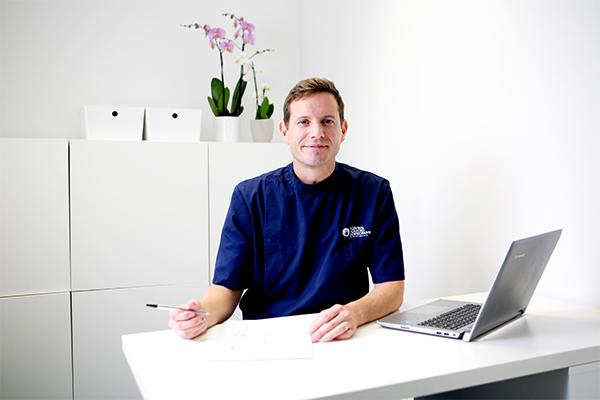 You're in good hands
Jamie is a friendly, award-winning osteopath based in central Oxford. He trained at the London School of Osteopathy (LSO), where he was awarded the senior management prize for all-round ability. He has since gone on to publish osteopathic research in academic journals, presented his work at conferences and is also involved in Osteopathic education as a Clinic Supervisor at the LSO.
A top-class education has provided me with the essential knowledge and expertise to safely and successfully diagnose and treat your pain
Professional pain relief
Jamie is committed to helping others in a very practical way.
Every day I work with people in pain - using my hands to help remove the physical barriers to healing. My philosophy is simple: take away the barriers to healing, give the body the space it needs and the body will heal itself.
Committed to long term health
We all lead busy lives but committing time to look after your body is a long term investment worth making.
My simple routine includes cycling, running, yoga stretches and chasing after my young children. To ensure my own spinal health I get regular osteopathic treatment.
Before visiting Central Oxford Osteopathy I rarely went a day when I wasn't conscious about my back. Doing anything for long periods - walking, standing up, sitting down, driving were all uncomfortable. At least a couple of times a year my back would seize up and I wouldn't be able to do anything because of the pain. Now, everything is different. I have had 4 sessions with Jamie and can't believe the change. Now I know what was wrong with me (very clearly explained), and the treatment has made a massive difference. I now hardly notice my back. As long as I keep up my exercises I hope to be alright for a very long time. My partner says I no longer waddle like a duck, which is another positive! I would recommend Jamie and his clinic to anyone. - Hannah
Part of your community
As well as his clinic-based work, Jamie provides free posture assessments at venues from corporate headquarters to community sports centres.
Being part of a busy community means I get to meet and treat many different people. My Home Visit Service is designed to relieve your pain and discomfort in a convenient location, at a time to fit in with your busy life.